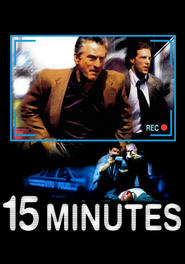 Watch 15 Minutes (2001) : Full Movie Online When Eastern European criminals Oleg and Emil come to New York City to pick up their share of a heist score, Oleg steals a video camera and starts filming their activities, both legal and illegal. When they learn how the American media circus can make a remorseless killer look like the victim and make them rich, they target media-savvy NYPD Homicide Detective Eddie Flemming and media-naive FDNY Fire Marshal Jordy Warsaw, the cops investigating their murder and torching of their former criminal partner, filming everything to sell to the local tabloid TV show "Top Story."
Title
15 Minutes
Release Date
Mar 01, 2001
Genres
Action, Crime, Thriller,
Production Company

New Line Cinema

,

Industry Entertainment

,

Tribeca Productions

,

New Redemption Pictures

Production Countries

Germany, United States of America

Casts

Robert De Niro

,

Charlize Theron

,

Edward Burns

,

Kelsey Grammer

,

Avery Brooks

,

Vera Farmiga

,

Kim Cattrall

,

David Alan Grier

,

Roseanne Barr

,

Anton Yelchin

,

Paul Herman

Plot Keywords

new york city

,

prison

,

detective

,

airport

,

prisoner

,

paranoia

,

police

,

revenge

,

video camera

,

fear

,

violence

,

criminal

,

police detective

,

death

,

nypd

,

news report

,



Deputy Chief Fire Marshal Declan Duffy
James Handy






Woman at Planet Hollywood
Toni Kalem



Additional voices (voice) (uncredited)
Dwayne Adway
Uniformed Cop (uncredited)
William H. Burns
Police Officer (uncredited)
Giovanni Capitello
Arguing Husband (uncredited)
Phillip V. Caruso
Woman in Bar (uncredited)
Rose Colasanti
Police Officer (uncredited)
Ben Fiore

Airport Passenger (uncredited)
Zuhair Haddad
Daily News Reporter (uncredited)
Philippe Hartmann
Restaurant Patron (uncredited)
Everton Lawrence
TV News Reporter (uncredited)
George F. Miller
Woman #2 at Planet Hollywood (uncredited)
Ellen Whyte
Escort Service Woman Linda
Elma Vann
Bouncer at Planet Hollywood
Jorge H. Guzman
Girl in Restaurant (uncredited)
Celeste Gregoire
Restaurant Guest (uncredited)
Janean Christine Mariani
NYPD Police Officer (uncredited)
Riley G. Matthews Jr.
NYPD Officer at Ludwig's (uncredited)
Floyd Resnick
Nightclub Patron (uncredited)
Erica Taylor